About CHEF
President's Letter | Mission | Vision | Goals
Life's most urgent question is: What are you doing for others? (Martin Luther King)
It was not until my mother was diagnosed with diabetes and I learned of the health-related experiences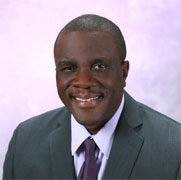 of others that I began asking that question — what am I doing to help? How can I help her and others to adopt the lifestyle changes that promote better health? How can I help to ensure the best healthcare for my mother and others who live with chronic illnesses?
I am sure that like me, the need to help others and to give back to our communities was among the character traits instilled in each of you from an early age. Today as we embark on this journey with the Caribbean Health and Education Foundation (CHEF), let me simply outline our mission.
Our Mission:
To improve health outcomes, form collaborations and advance policies and best practices which benefit the citizens of the Caribbean region.
At the Eastern Caribbean Conference on Health, which was held in July 2007, we brought together more than 150 health professionals to address health and education issues affecting the Caribbean region. From the reports received, the conference was an astounding success, and provided a forum for community, regional, and international policy leaders, and health care practitioners to examine key issues and strategies for improving the health of citizens in the OECS territories.
As an outgrowth of that conference, the concept of the Caribbean Health and Education Foundation (CHEF) was created with the mission, vision and goals focusing on promoting health education awareness, and healthier lifestyles. Partnering with other Caribbean and international healthcare professionals, CHEF seeks to achieve heightened awareness of health issues and prevention, focus attention on neglected health issues, and provide support for other health initiatives in the region. CHEF will develop and implement initiatives to address workplace wellness, diabetes, hypertension, obesity, breast cancer and HIV/AIDS.
Ghandi said, "We must be the change we wish to see". As a young boy growing up in Butlers, Nevis, it seemed unlikely that my destiny would lead me in the direction that I am now traveling. However, it has been my experience that a desire to serve others is the first step to making a difference to those around us. The challenge we face is great but so is our desire and commitment to make a difference, working together to improve the health of our families, communities and the wider Caribbean region.
I invite you to join us, and support CHEF, on an individual or corporate level, to bring health, education and healthier lifestyles to citizens in the OECS, and the Caribbean. Our commitment to tackling and resolving these challenges can only be achieved if we Cooperate to Build Healthier Communities.

Odell Bussue



Founder/President